The Heal My Body Workbook sells for $9.99 but you can have it completely for FREE simply by subscribing to Karen Bentley's newsletter.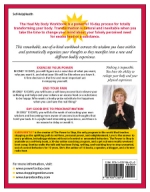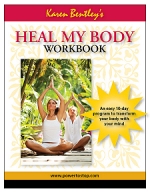 The Heal MyBody Workbook is a 10-day program for using your mind to heal your body. It's especially written to help undo stopping problems.  Your mind will be trained and opened to a new, more uplifting and more useful idea of what's possible for you.
The daily exercises focus your thinking, enable your to dwell on your wonderful self, and create the opportunity to imagine a more pleasing life and bodily experience. This work is not hard, time consuming or demanding. In fact, it's quite enjoyable because the Heal My Body Workbook is all about you from start to finish: your obstacles, your values, your highest vision for yourself.
Sign-up here and now and get your instantly downloadable 33-page copy of the Heal My Body Workbook in your email box right away.
"If the mind can heal the body, but the body cannot heal the mind, then the mind must be stronger than the body. Every miracle demonstrates this."

A COURSE IN MIRACLES